ETERNAL HOLISTIC CARE Health & Beauty Drink

Health & Beauty Drink
ANTIOXIDANT - ANTI AGING - DIURETICUM - BIOACTIVE - PREBIOTIC - REGENERATING - HARMONIZING - WEIGHT REDUCTION
Client references in English 
HERE
.
Client experience in Greek
HERE
.
Client experience in Russian 
HERE
.
A specially formulated blend of carefully selected superfruit species together with African tree fruit pulp and premium collagen creates a unique combination of all-natural active ingredients. Beauty drink not only tastes great, but also has a positive effect on physical health, vitality and psyche. It uniquely supports the balance of the digestive tract and contributes to weight management.
Baobab and acacia gum, organic cactus fruit extract, hydrolysed fish collagen with cysteine, organic Acerola fruit extract with natural vitamin C.
Package: 420 g (enough for one month of use for one person)
A unique blend of carefully selected premium active ingredients of plant origin, whose effectiveness on human health has been scientifically proven, and hydrolyzed fish collagen Naticol® Cyskin®. Beauty drink not only tastes great, but also promotes better skin elasticity, healthy looking hair and nails, supports the balance of the digestive tract, prevents excessive water retention in the body, contributes to weight management. Thus, it has an effect on vitality and overall well-being.
The Eternal Holistic Care collection contains premium hydrolysed fish collagen enriched with L-cysteine, Brazilian Acerola extract, the active ingredient Cactinea™ from the fruit of Opuntia ficus indica and a specific blend of soluble and insoluble fibre inavea™ baobab & acacia. Beauty drink contains no added sweeteners, colourings or flavourings. The pinkish colour is given by the extract of the Opuntia ficus indica fruit and the slightly citrus taste is characteristic of the baobab pulp. Beauty drink is easily soluble in water.
Naticol®: COLAGEN
This is hydrolysed fish collagen type I enriched with the amino acid L-cysteine. It is produced in Europe using a specific enzymatic hydrolysis process from high quality raw materials. It is free of GMOs, fats, carbohydrates, preservatives and purines. It is characterized by a high degree of purity, biological efficiency, good water solubility and, above all, an almost neutral taste and aroma.
Collagen Naticol® Cyskin® with amino acid L-cysteine improves the quality of hair and nails, skin hydration and elasticity, accelerates healing, improves the functionality of the musculoskeletal system and also has a partial effect on reducing the feeling of hunger.
Collagen is a natural substance for the body that is found not only in the skin, but also in the bones, teeth, muscles and intestines. The body makes it every day, but its production slows down with age. Skin loses approximately one percent of collagen per year, and skin is largely made up of collagen and water.
Naticol® Cyskin®
It is an exclusive and bioactive complex of fish collagen peptides and the non-essential amino acid L-cysteine, which contributes significantly to protein structure. It is an optimal technological complex that effectively acts on the elasticity of the skin (acting at both dermis and epidermis level), hair and nails.
Naticol® Cyskin® has been developed through the synergy of the technological and scientific expertise of two French companies specialized in purified amino acids (BCF Life Sciences) and fish collagen peptides (Weishardt). A pioneer in the nutraceuticals market, this exclusive product, with its unique bioactivity due to its specific technological processing, provides a complementary approach to beauty and skin care.
Naticol® Cyskin® is a registered trademark of Weishardt International.
Acerola extract 17% organic
This superfruit native to Brazil is very rich in vitamin C, which supports proper immune system function, helps protect cells from oxidative damage and contributes to normal collagen formation.
Because of its natural vitamin C content, Acerola is used in modern and folk medicine for liver problems and diarrhea, as well as for the prevention of coughs, flu and colds. It promotes energy and vitality as it helps the body fight infections and viruses and boosts immunity and athletic endurance.
inavea™ baobab & acacia
inavea™ baobab & acacia is an all-natural and organic synergistic formulation of baobab and acacia, two African treasures with a carbon-neutral footprint. inavea™ baobab & acacia offers proven prebiotic benefits at 5 g/d, contributing to a balance of microflora for better digestion, health and overall well-being.
The ingredients in inavea™ baobab & acacia act as a friendly microflora regulator, effectively creating a restoration and maintenance of a favourable balance.
Studies have demonstrated the complementary and significant prebiotic activities of inavea™ baobab & acacia:
pH, ammonia and bSCFA2 reduction,
an increase in lactate and SCFA3.
The study demonstrated support for beneficial bacteria including Bifidobacterium spp. and specific bacteria such as Akkermansiaceae and Christensenellaceae. The study also demonstrated progressive fermentation across the entire gut.
inavea™ baobab & acacia supports metabolic health with modulation of oxidative effects and inflammatory markers.
inavea™ baobab & acacia is a trademark of Nexira.
Cactinea™
It is a water-soluble extract from the fruit of Opuntia ficus indica with diuretic and antioxidant properties. It is characterized by its high content of betalains, especially indicaxanthin (65-85%), whose antioxidant profile has been confirmed by numerous studies. Clinical studies have shown a significant effect of this substance on diuresis, reduction of oedema and heavy legs. Compared to conventional diuretics, Cactinea™ has no side effects and does not lead to mineral degradation.
Cactinea™ is a trademark of Nexira.
Ingredients:
Fish collagen peptide complex with cysteine (Naticol® Cyskin®), Baobab pulp and acacia gum fiber blend (Inavea™), organic Opuntia ficus indica cactus fruit extract (Cactinea™), organic Acerola fruit extract with 17% natural vitamin C.
Contents of substances in a daily dose of 14 g:
Collagen peptide complex with cysteine 5 500 mg
Baobab and acacia gum blend 5 000 mg
Opuntia ficus indica extract 2 000 mg
Acerola extract 1 500 mg
of which vitamin C 255 mg = 318 % rhp*
*rhp = reference intake value
Usage and recommended dosage:
Mix a daily dose of 14 g, i.e. approx. 1.5 scoops, in 200-250 ml of water. Take at any time of the day. After mixing, undissolved particles of baobab fibre are visible in the drink, which is a natural property of the product.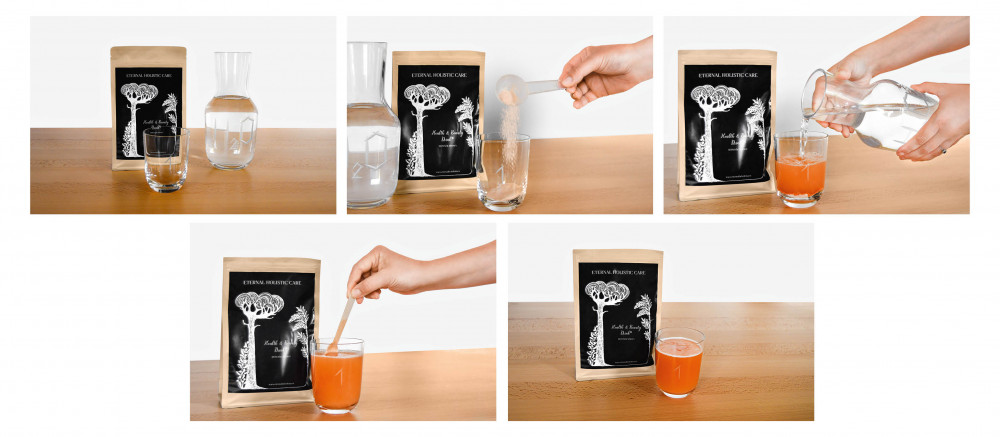 Warning:
Does not replace a varied diet. Do not exceed the recommended dosage. Not intended for children. Keep out of reach of children. Protect from heat, cold and moisture. Once opened, store properly sealed, dry and use within 2 months. The manufacturer is not liable for damage caused by improper use or storage.
Manufacturer:
Agentura Helas, s. r. o., Na Poříčí 1040/10, 110 00 Prague 1
Mission:
The total proceeds from the sale of this product are donated to the development of the idea of Building a Proud Czech Republic and the activities of the Helas Business Platform. The Hellas Platform is a part of the Hellas Foundation and the Hellas Business Platform.